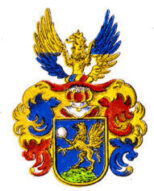 Isabella's passion for art relies on solid roots going back to her childhood. The artistic predisposition runs in her veins through generations. Bertel Gripenberg – her grandfather- the famous poet who lived between two centuries fought a war and chanted the heroic deeds of mythological and archaic heroes, dissolute women, heroines, priests, biblical events…His fervidly burning imagination was a crucible of lyrics, stories and poems taking shape like living beings thanks to his direct indefatigable inspiration relentlessly streaming from higher realms.
Bertel Gripenberg, an overwhelming Nordic Saga in Poetry
Bertel Gripenberg, Isabella Diana Maria's Grandfather in his early 30's

Erwin Gripenberg;1916-1984
Isabella Diana Maria's Father
Isabella certainly seemed to have inherited many the creative traits not only from Bertel but also from her father (Bertel's son) Erwin Sebastian Gripenberg who started in post 2nd world war Sweden, the cultural Magazine "På Väg" (On the way), based on high ideals for humanity with pedagogic and spiritual guidelines inspired to the "Science of Spirit" principles. He and his wife Isa Margareta Von Troil Gripenberg were among the founders of Steiner school in Stockholm. The outstanding Finnish writer Anu Seppälä's " Isa Gripenberg : aatelisnaisen tarina " (The Story of a Noble Woman) – published in 1995 by Otava – portrays vividly her biography.
Alexandra Gripenberg: founder of women's right organization in Finland

By Karl Emil Ståhlberg – This image is available from the United States Library of Congress's Prints and Photographs division under the digital ID cph.3c34017. This tag does not indicate the copyright status of the attached work. A normal copyright tag is still required. See Commons:Licensing for more information., Public Domain, Link
Bertel Gripenberg's aunt Alexandra Gripenberg (1857-1913), was a pioneer and founder of the Finnish women's right movement: the Suomen Naisyhdistys (Finnish Women's Association), in Helsinki in 1884. She was born August 30th 1857 in Kurkijoki (Kronoborg) county in the South-West region of Finland. Elected conservator senator in the Parliament of Finland in 1906 with other 9 women. She died December 24th 1913 in Helsinki, after a life rich of political and cultural achievements.
Sebastian Gripenberg a milestone in Finnish Architecture
Bertel Gripenberg's elder brother Sebastian Gripenberg (1850-1925) devoted his genius to Architecture instead of Poetry. Among of his most renown constructions he designed we can recall to our memory the Finnish Literature Society. built in 1888 in Helsinki, framed in the image above. Sebastian Gripenberg was born on Mars 3rd in Kronoborg in the eastern region of Finland named Karelia bordering Russia. His academic background was rooted in studies performed under the supervision of Frans Anatolius Sjöström in Helsinki and Carl von Hasenauen in Vienna. He designed several buildings during the shift of the two centuries not only in Helsinki but also in Turku, Tampere and Ekenäs: all in all the resourceful Architect planned and delivered over sixty architectural projects all over Finland.
Isabella Gripenberg at a wedding
gala ball in here early teens.

Bertel Gripenberg at a dinner with the Marshal Carl Gustaf Mannerheim (1867-1951) commander -chief of Finland's defence force and Finland's 6th President.

The Baroness Isa Gripenberg-Von Troil (1914-2006) Isabella's Mother
Contact: info@gripenberg.co