A Contemporary Master in the Gripenberg Art Collection disclosed in the Artbook "Brother Colour and Sister Light"
A flash presentation of "Brother Colour and Sister Light" the new Artbook on Enrico Garff's artistic history. 59 paintings reviewed in 5 languages with an interview held with Luciano Pavarotti in 1989.
"Surely I yearned to be remembered for having delivered during my existence something of substantial value to humanity. In the late 80s, I started a classical Greek-inspired cycle, portraying scenarios with sculptures in a wide range of styles, including Classical, Hellenistic, Minoic and Cycladic art. The inspiration gained from the full immersion in those historical eras was overwhelmingly corroborating: the statues appeared to take life under my brush while the mystical atmosphere of those eras captured my soul in rapture. I never lacked the inspiration, to be honest, but during that period the creative flow was so powerful that I perceived it as an uncontrolled flow of energy streaming down to the painting. In conjunction with that blessed inspirational connection, I was practising a spiritual discipline regarding the "liberation of the thought". "
An Extract from an interview with Master "The World of Enrico Garff" released by "So Cultures" magazine – November 2018 Edition.
Enlarge the e-magazine format to full-screen to better savor the So Cultures interview with the Painter
Vibrating Colors and Sounds merged in a mesmerizing Slideshow
Lassi Nummi is one of the most beloved Finnish poets of his day. My watercolours inspired him to these wonderful lines:

"The first thing that strikes one in Garff's painting is that his images appeal directly to the senses; looking at his landscapes, a perception of moisture in the air can almost be felt on the skin. Garff prefers an intensive perspective based on colour to a traditional geometrical structure. Light and Space are created by chromatic contrasts. One can sense a tension vibrating between Nature and the human figure which I dare to call "mythical". The strong contrast between pale luminosity and heavy dark surfaces seems to spring from an unseen dimension of myth and human destiny. The contrasts created among the elements, air, water and earth excite the imagination and stimulate the interest of the observer. In the foreground Joy and Harmony predominate, but in the background gather the shadows of a tragic destiny. In some paintings the figures seem to belong simultaneously to two different worlds, to this familiar physical one, and to an upper ethereal air. In an inexplicable way, the spiritual dimension of this painter's Art is constantly born from the very touch of his brush. Some of his works evoke an atmosphere which recalls Blake, others bring to mind Dante."
A variation of the previous slideshow framing Enrico Garff's paintings
A relaxing and mesmerizing overview on Enrico Garff's artwork to savor in full immersion state of mind. You are warmly recommended to enjoy.

By Enrico Garf, "Gertud in Taormina" (portrait of the artist's mother), oil on cartoon, 70x97cm,1010.1981 – This is my photograph of Enrico Garff's painting "Gertud in Taormina"., CC BY-SA 4.0, Link
The Contemporary Master's mother lived her last years in Taormina by the Shadow of Mount Etna in Sicily
Sicily

1981 Enrico Garff was back in Italy, this time in Sicily where contacts seemed more promising. Quite soon he exhibited a series of new paintings in collaboration with Jano Barbagallo and Gianni Pennisi in the Galleria La Spirale in Acireale, and he was introduced to the much beloved Sicilian poet Renzino Barbera [1] who wrote the introduction for Enrico's exhibition in the Palazzo Corvaja in Taormina in May and June 1981.[8]

Source Wikipedia
Press Release Archive in Highlights regarding Art Exhibitions, Critiques, Accolades
The Dossier includes an archive of Newspapers and magazines concerning Enrico Garff's artistic itinerary.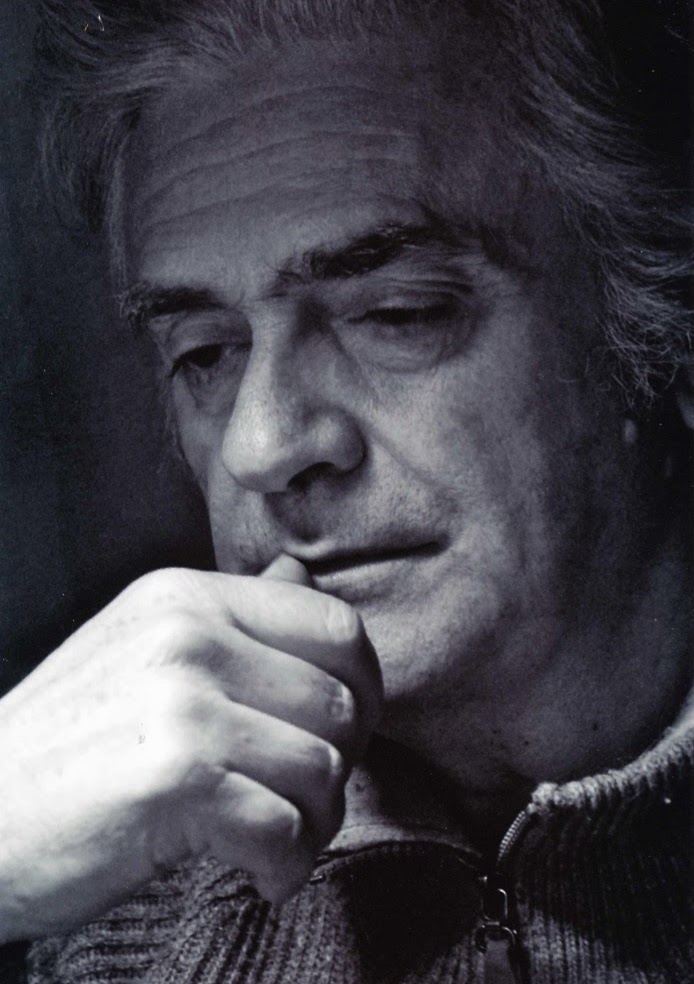 "The comeback of Marcus Aurelius" enters triumphantly Finland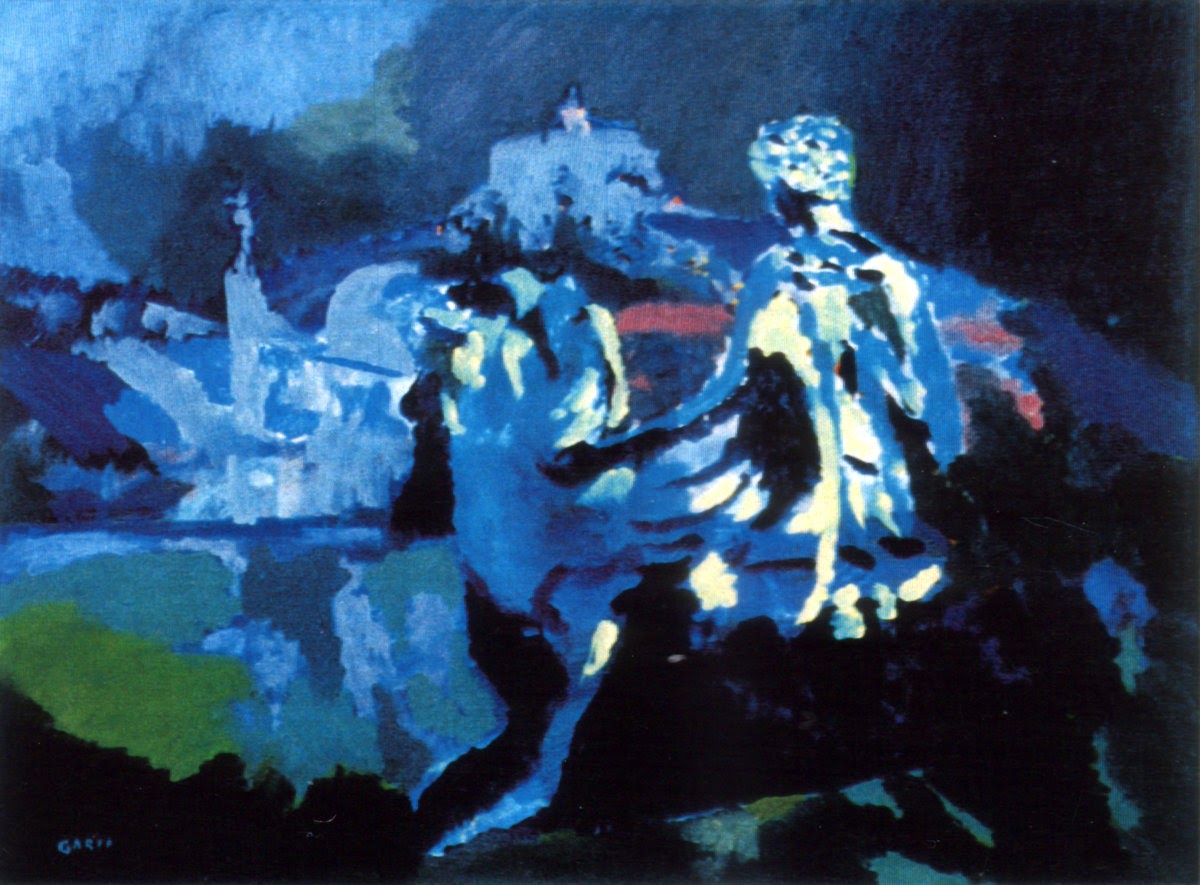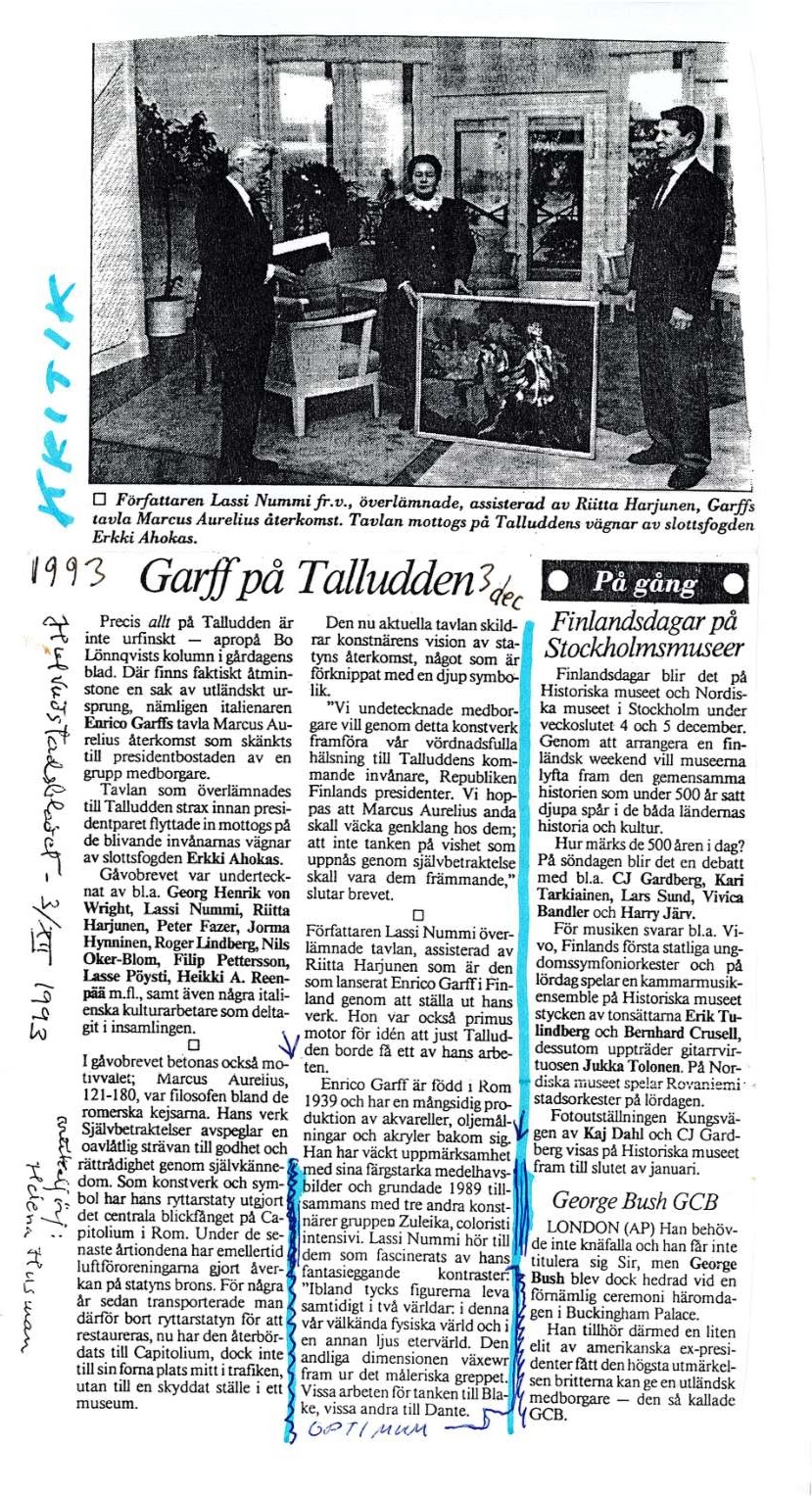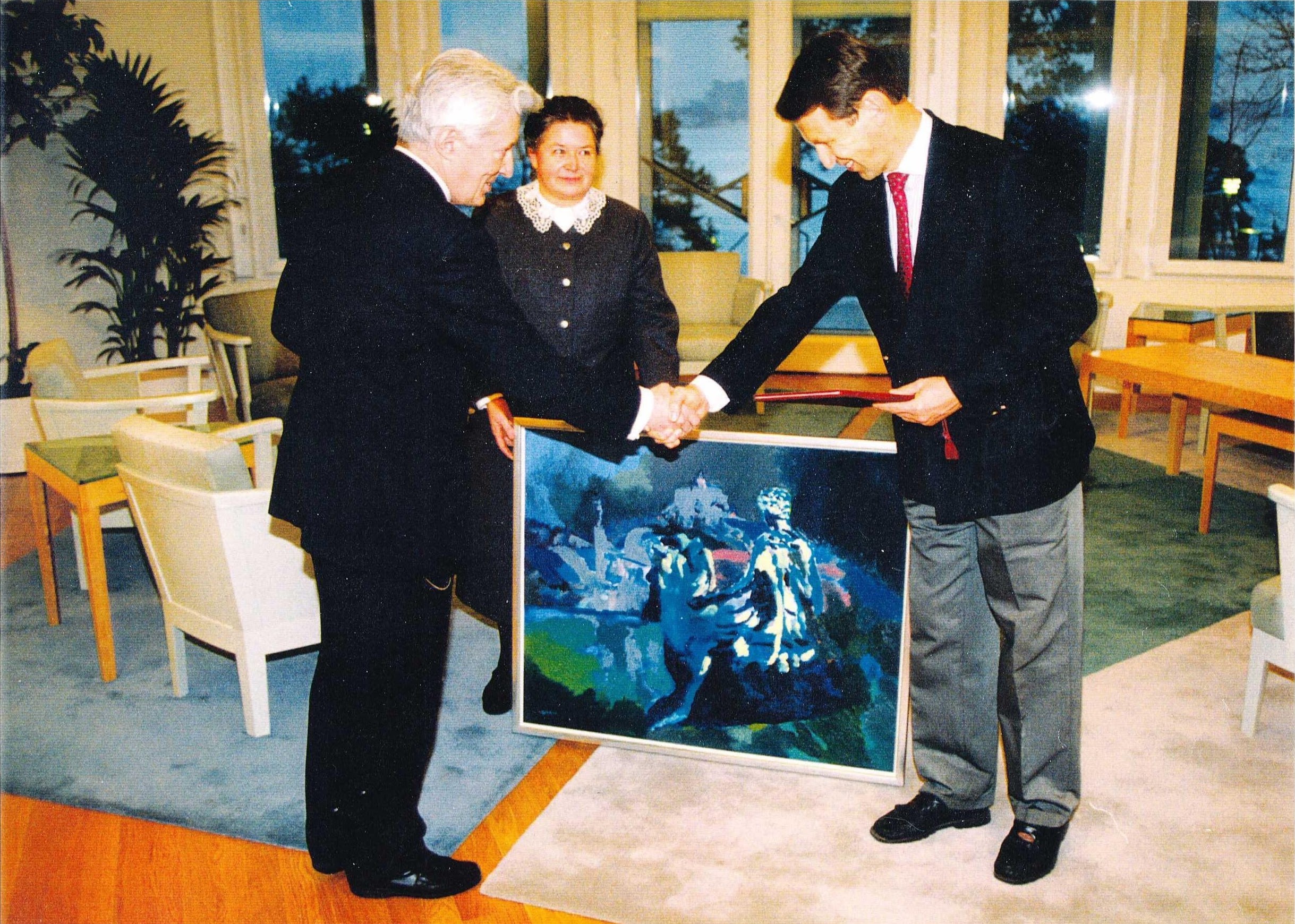 "The Sons of The sun" – Auringopojat in the very heart of Helsinki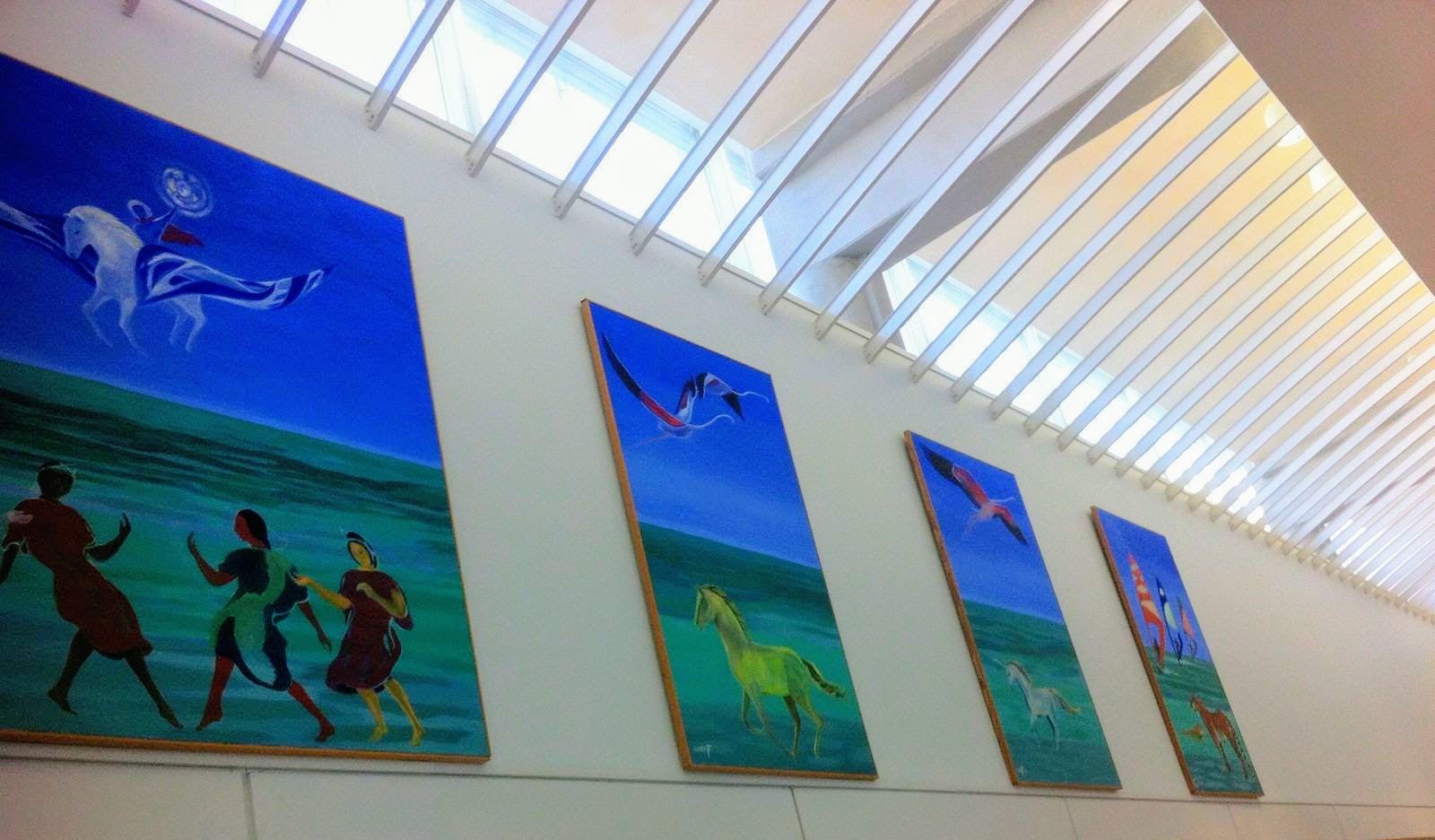 The Green sea of Adventures: HBL's reporter Helena Husman introduces "The Sons of Sun" to the public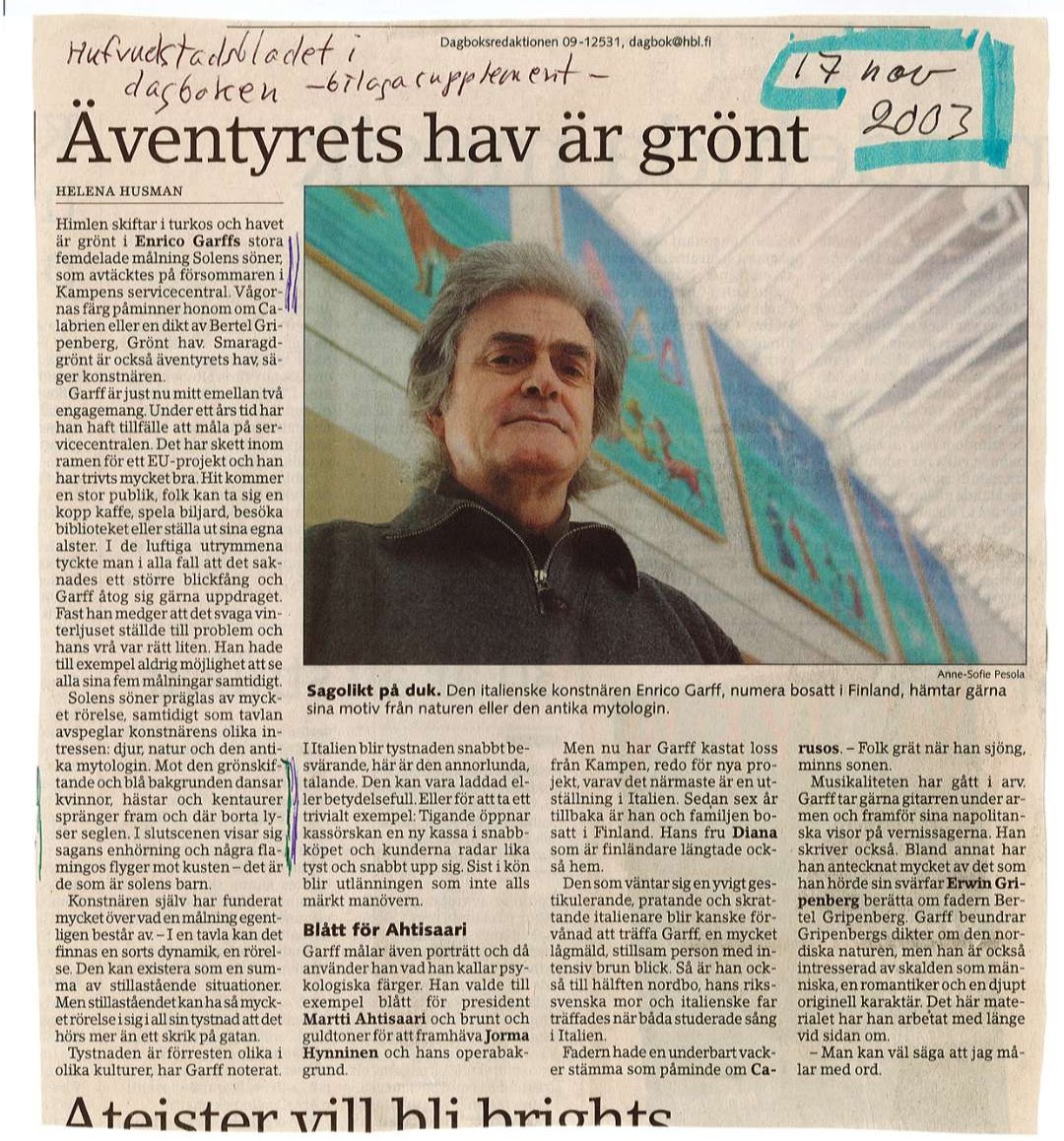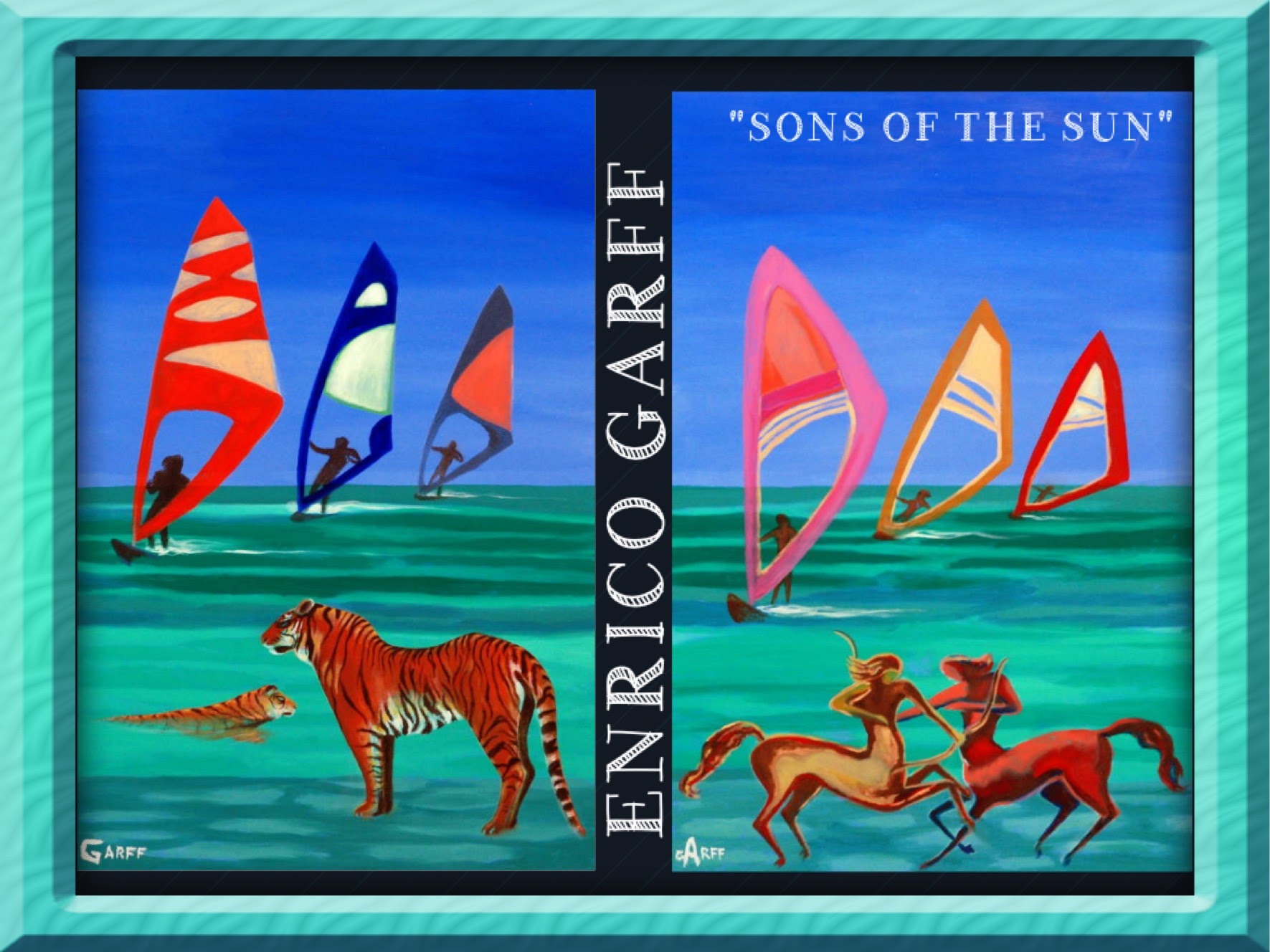 Enrico Gallian of the Italian newspaper " L'Unità " praising the "Zuleika" Exhibition near Rome
Zuleika's Colourists and the epilogue of a fairy tale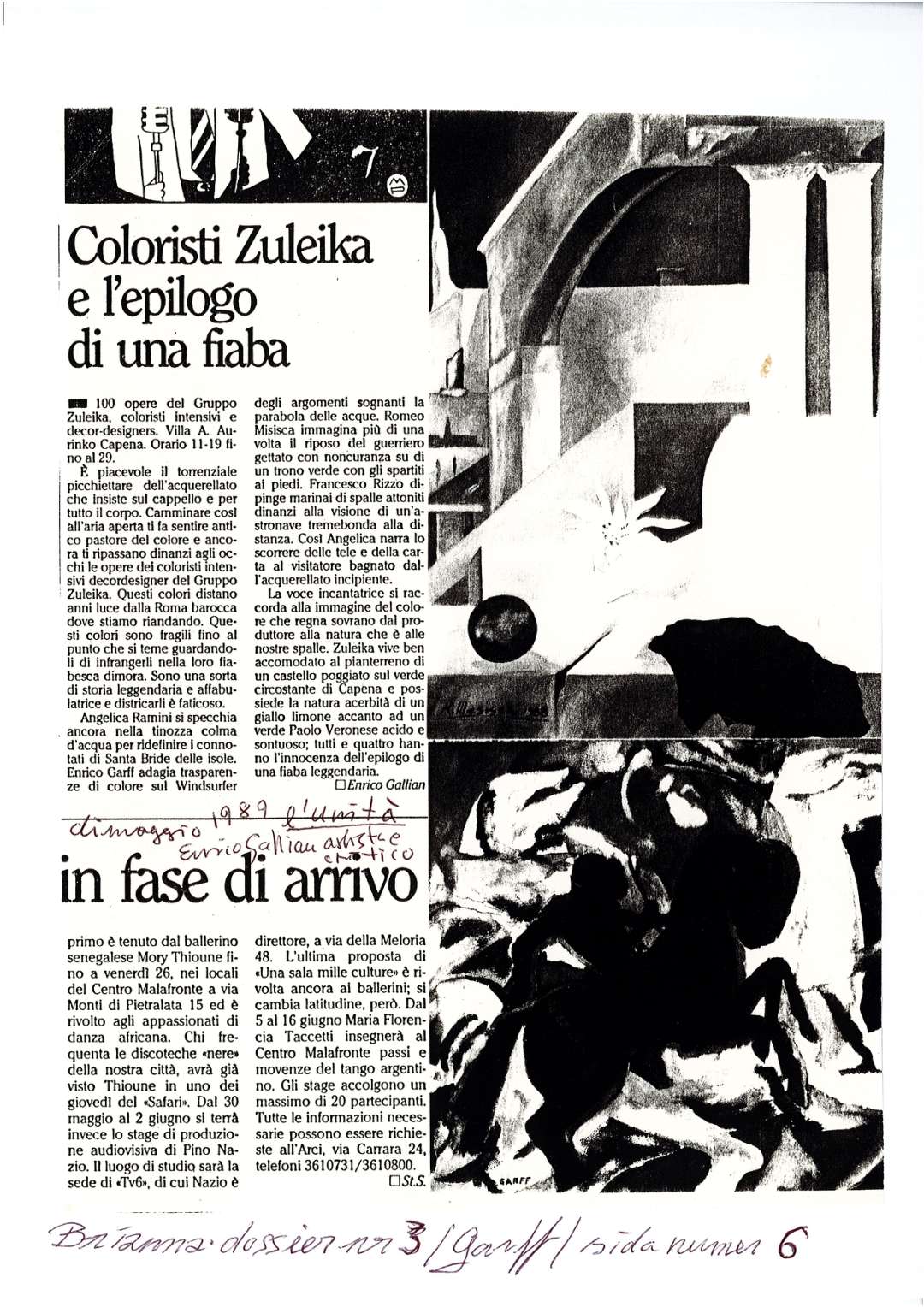 Link to the archive of the newspaper " L'Unità" below:
The Hawaiian girls – Le Hawaiane oil on canvas artwork by Enrico Garff – 1997